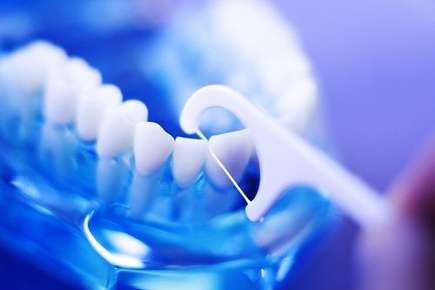 Do you avoid flossing? If dental floss won't fit between your teeth easily or you find the entire process uncomfortable or time consuming, you may not floss as often as you should. Failing to floss can be a contributing factor in bad breath and may increase your risk of cavities and gum disease. Luckily, there are a few flossing alternatives that will help you keep your smile healthy.
Plaque and Tartar Builds Up When You Don't Floss
Dental floss removes food particles that get stuck between your teeth, but that's not the only benefit. Every day, colorless plaque covers your teeth in a sticky bacterial film. If you happen to take a bite of a sugary snack, bacteria and sugar combine together to produce strong acids that destroy tooth enamel. Cookies or candy aren't the only foods that trigger the chemical reaction. Foods like potato chips, bread, and pretzels contain carbohydrates that are converted into sugars.
Brushing your teeth removes plaque from most teeth surfaces but doesn't touch plaque between teeth. If you don't floss, you increase the risk of developing cavities in these areas. Failure to floss regularly also makes it more likely that tartar will form between teeth. Tartar, a hard deposit that can only be removed with dental instruments, forms when you don't remove plaque promptly.
If you have tartar, you'll notice an unsightly brown or gray build up on your teeth, usually near the gum line. Tartar doesn't just mar your smile, but is also responsible for causing gum disease.
Dentists recommend flossing at least once per day to remove plaque and prevent tartar from forming. Unfortunately, too many of us don't follow that recommendation. Only four in 10 Americans floss once a day and 20 percent never floss, according to a Delta Dental research study. Although you might not develop tooth decay if you occasionally forget to floss, skipping flossing often can harm your teeth and gums.
Floss Isn't the Only Tool You Can Use to Clean Between Teeth
When cleaning your teeth with dental floss isn't an option, try one or more of these popular flossing alternatives:
Interdental Brushes. Disposable interdental brushes effectively remove plaque and debris from your teeth. Unlike toothpicks, the brushes feature soft bristles that gently clean your sensitive gums and the spaces between teeth. Because interdental brushes are available in several sizes, you may need to try a few different sizes initially.
Dental Picks. Picks consist of a small amount of floss suspended between two tiny plastic arms. Dental picks are particularly useful for flossing difficult-to-reach back teeth, but can be used to clean all of your teeth. They're also a convenient option if you need to floss when you're away from home.
Battery-Powered Flossers. Power flossers use small nylon tips to clean between teeth. The vibrating action of the flosser removes plaque above and below the gum line and also gently massages your gums.
Water Flossers: Water flossers are connected to a water-filled reservoir that pumps a steady stream of water between your teeth. The flossers not only only remove plaque above the gum line, but also help keep debris, plaque and bacteria from accumulating below your gums, reducing your risk of developing gingivitis or painful periodontal disease. Water flossers are a good choice if you can't fit floss between your teeth, wear braces or need to clean around dental implants. If you prefer, mouthwash can be added to the water reservoir.
Air Flossers. A combination of pressurized air and micro-droplets of water keep your teeth free of plaque when you use an air flosser. Battery-operated air flossers deliver the air/water combination through a slim nozzle that fits between teeth. These flossers aren't as messy as water flossers because only a small amount of water or mouthwash is used. Air flossers can help you keep brace wires and brackets clean, make it easier to remove plaque from dental implants and play an important role in helping you avoid gum disease.
Daily flossing and regular professional dental cleanings can help your smile stay healthy. If it's been a while since you've had an exam and cleaning, call us today to schedule an appointment.
Sources:
Delta Dental: Survey Finds Shortcomings in Oral Health Habits, 9/23/14
https://www.deltadental.com/Public/NewsMedia/NewsReleaseDentalSurveyFindsShortcomings_201409.jsp
American Dental Association: Flossing
http://www.mouthhealthy.org/en/az-topics/f/flossing
Colgate: Flossing Alternatives on the Go
http://www.colgate.com/en/us/oc/oral-health/basics/brushing-and-flossing/article/flossing-alternatives-1016