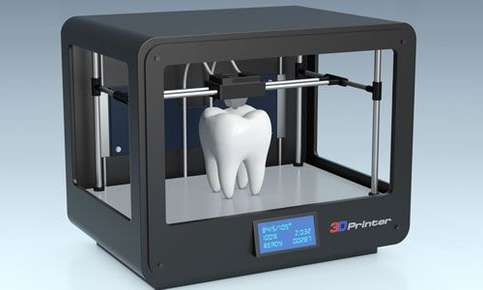 Hanging out in the dentist's office probably isn't on your list of the top 10 things to do with your free time. Thanks to innovative 3D printing, you may no longer need to visit the office more than once if you need a crown, inlay, onlay, veneer or other restoration.
What Is 3D Printing?
3D printers can duplicate nearly any object perfectly. The printers are used to make everything from prosthetic limbs to cars to bikinis. After seeing the impressive results 3D printing offers, dentists realized that the technology held important benefits that could enhance the restoration process.
3D printing can allow your dentist to eliminate the traditional dental laboratory and create restorations while you wait. For years, crowns, bridges, inlays, onlays and dental restorations were only made in labs and you often had to wait weeks for your restoration to be ready. 3D printing is poised to change all of this.
How Does 3D Printing Work?
3D printers create objects layer by layer, starting from the innermost layer. Dental 3D printers create veneers, crowns and other restorations out of composite resin, a plastic-based material that's also used to for bonding and tooth-colored fillings. Because restorations are produced one layer at a time, it's easy to duplicate the features of a real tooth, such as the peaks and valleys you see on the surface of your molars.
No More Messy Impressions
A proper fit is essential when you receive a dental restoration. For years, crowns and other reconstructions have been created using an impression, or mold, of your mouth. Obtaining the mold involves loading a semi-circular tray with gooey putty and placing it in your mouth for four or five minutes. While the impression material solidifies, you won't be able to swallow, which some people find uncomfortable.
With 3D printing, the putty is eliminated. Instead, your dentist scans your teeth with a small handheld device. As the device passes over your teeth, it captures multiple images, which are are combined to create a 3D model of your mouth. Your dentist reviews the model on a laptop or tablet, then sends the design for your new restoration to a 3D printer.
In addition to increasing your comfort, digital impressions also help your dentist ensure that there are no problems with your restoration. If you choose a porcelain crowns, fit issues and defects often aren't detected until the restoration is placed in your mouth for the first time. When 3D printing is used, it's possible to spot problems or errors when reviewing the digital images.
How Long Does It Take?
The length of your appointment will vary depending on your restoration. Because the size of your tooth must be reduced slightly if you need a crown, these appointments can take longer than visits for a veneer or inlay. In most cases, you can expect to spend 1 1/2 to two hours at the dentist's office. Once the design is sent to the 3D printer, it will only take minutes for the restoration to print.
What's the Difference Between 3D Printing and CEREC?
The CEREC system also gives dentists the ability to produce restorations in their offices, but the process is somewhat different than 3D printing. CEREC relies on milling machines that shave down a ceramic block to make crowns, bridges, onlays and other restorations. CEREC involves subtracting layers, while 3D printing adds layers. 3D printing is usually faster than CEREC and offers more precise results, allowing for a better fit.
While not every dental office is equipped with 3D printing technology yet, precise 3D replication is something you are likely to see popping up in more and more uses. If your crown, bridge, veneer or other dental restoration is discolored, ill-fitting or broken, set up an appointment with us and we can help you get the smile of your dreams.
Sources:
Dental Economics: Move Over CAD/CAM, Here Comes 3-D Printing
http://www.dentaleconomics.com/articles/print/volume-103/issue-4/features/move-over-cad-cam-here-comes-3d-printing.html
Quartz Media: Dentists Will Soon Be Able to 3D Print You a New Tooth in Minutes, 3/28/15
https://qz.com/367187/3d-printed-teeth/
New Scientist: 3D Printed Teeth to Keep Your Mouth Free of Bacteria, 10/16/15
https://www.newscientist.com/article/dn28353-3d-printed-teeth-to-keep-your-mouth-free-of-bacteria/?dom=pscau&src=syn
Dental Economics: CERC: Myth or Magic
http://www.dentaleconomics.com/articles/print/volume-96/issue-1/departments/letters-from-readers/cerec-myth-or-magic.html